Welcome to the Rail and Maritime Transport Union Online
The RMTU is a union for transport workers in which all members have equal rights, whatever their job.
With rapid change, and increasing competition in the transport industry it is important that workers are protected by a strong, well-resourced union, specialising in all aspects of the transport industry; rail, road and ports.
The structure of the RMTU gives you the opportunity to be fully involved in a democratic union as collective decisions are made which may affect your job and conditions of employment.

You have the opportunity to elect your workplace union representative (delegate), as well as branch and national union representatives. You have a voice at all levels of the RMTU.
---
Latest Media Releases
Rail Workers' Reject Closure of southland Branch line
Media Release Rail & Maritime Transport Union
Friday 24th July, 2020 IMMEDIATE RELEASE
The union representing rail workers says the impending closure of a Southland rail line goes against the Government's own commitment to provincial infrastructure and upgrading New Zealand's rail network.
KiwiRail has confirmed they are planning for the closure of the Ohai to Invercargill Branch Line, commonly referred to as the Wairio Branch.
Rail and Maritime Transport Union General Secretary Wayne Butson says rail workers are calling on the Minister of Transport Phil Twyford and Associate Minister of Transport Julie Genter to intervene.
Mr Butson says the line carries coal on the first part of its journey from Ohai to Fonterra's Clandeboye factory in South Canterbury.
"This line is in regular use, and there is untapped local potential for rail in growth areas such as logging."
Mr Butson says remedial work was carried out on the line several years ago and some further work was required to get the line up to speed.
"A line closure means double handling and more trucks on South Island roads – the exact opposite of what the Government says it is trying to achieve."
He says the Union is unhappy that an application by Kiwirail to the Provincial Growth Fund has been declined.
Mr Butson says there are signs of an imbalance with transport infrastructure with the North getting priority over the South.
"Provincial rail lines are an essential part of a national transport strategy and export industries and the Government needs to step up on this occasion."

ENDS
For further information, please contact RMTU General Secretary Wayne Butson on 0274962461
Click here to download this media release
TranzAlpine restarts while Dunedin Rail Limited is put out of business
Media Release Keep Dunedin Rail Rolling - IMMEDIATE RELEASE 22nd June 2020
Dunedin Rail workers are demanding to know why their business, including the iconic Taieri Gorge Railway, is being closed down at the same time KiwiRail has restarted one of its key scenic train journeys.

KiwiRail have announced the reopening of the Christchurch–Greymouth TranzAlpine service from 4 July after several months of cancelled services due to Covid19.

Keep Dunedin Rail Rolling spokesperson Dave Kearns says the decision is an glaring reminder of the failure of leadership at Dunedin Railways Limited (DRL).

Mr Kearns says the view of the DRL workforce is that DRL Board Chair Kevin Winders should be stood down so he can concentrate on his job as Port Otago CEO, given the recent loss of business at that port.

"We have seen KiwiRail management looking at new opportunities with TranzAlpine while the Board and senior management of DRL have condemned this Dunedin asset to a slow death. This is absolutely gutting for the workforce and the many local people who want to keep Dunedin Rail rolling."

He says the failure to get a trial commuter service up and running, or secure tourism recovery funding, could be laid directly at the feet of the DRL Board and senior management.

"Everyone has been doing their jobs for them. The workers, the Council, the public, even local MPs have been working to save this asset with fresh new ideas – but the people paid to keep this business going have done nothing except undermine the future of DRL."

DRL is being 'mothballed' on 30 June with the loss of over fifty jobs.

There is no detailed plan for maintenance of DRL track and assets, says Mr Kearns.

The campaign has recently called for KiwiRail to take over the track owned by DRL to ensure it was not left to rot, he says.

"As the current DRL leadership can't or won't do the work, they should go, and we can find new people who are prepared to meet challenges and have a go forward outlook."

ENDS

For more information contact
Rail and Maritime Transport Union Otago Branch Secretary Dave Kearns on 0278893292
OR
Rail and Maritime Transport Union South Island Organizer John Kerr on 027 246 4941

Campaign website dunedinrail.co
Click here to download this media release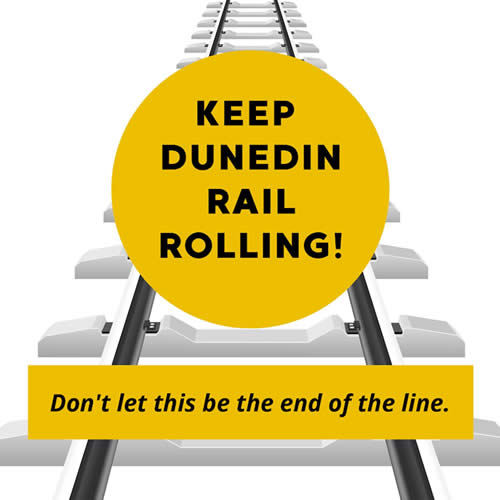 Keep Dunedin Rail Rolling - Petition
Dunedin Workers Proposal - click here
Keep Dunedin Rail Rolling Facebook- click here
Keep Dunedin Rail Rolling Blog - click here
Railway workers protest mothballing of Taieri Gorge
Taieri Gorge workers marched through Dunedin streets to deliver the mayor a letter this morning. Tuesday 2 June 2020
City Council backing Dunedin Rail commuter trial
Keep Dunedin Rail Rolling media release Friday 15 May 2020 - click here to download media release
Workers at Dunedin Railways step up fight to protect services and jobs
Friday 8th May 2020
Workers at Dunedin Railways Limited are disappointed and angry that their Board and Senior Management are continuing to push a low quality plan putting the future of the Taieri Gorge Railway and other local services in jeopardy.
DRL management today announced they would proceed with a "mothballing" plan that would effectively close the service with no guarantee of re-opening.
Rail and Maritime Transport Union Otago Branch Secretary Dave Kearns says the plan to mothball Dunedin Railways, including the iconic Taieri Gorge Railway, was unacceptable.
"The mothballing proposal is vague and meaningless, and the consultation process has been totally inadequate for a decision of this magnitude."
A proposal with positive alternatives had been submitted to DRL and presented to Dunedin City Council, and workers had taken their concerns to local MPs.
Mr Kearns says after workers first found their jobs were in jeopardy through the media, their faith in the process had been shattered.
He says there is an agenda at the Board level to run down and close the business, which had been their first preference.
However, workers are determined to fight for the jobs and keep Dunedin Railways rolling, he says, with strong community backing emerging around the Keep Dunedin Rail Rolling campaign.
A Facebook page Keep Dunedin Rail Rolling had gained 1600 likes and a petition to stop the mothballing plan had gained over 1500 signatures in the last several days.
ENDS
Click here to download this Media Release
Dunedin Railways workers propose positive solutions to prevent closure

Thursday 30th April 2020
Workers at Dunedin Railways Limited (DRL) have put forward a proposal to reinvigorate the company, retaining the iconic Taieri Gorge Railway and saving up to 70 jobs.

Rail and Maritime Transport Union Otago Branch Secretary Dave Kearns says the union, representing about fifty workers at Dunedin Railways, has today submitted the proposal (attached) as part of the consultation process with management.

Dunedin Railways is 100% owned by Dunedin City Holdings Limited, the business arm of the Dunedin City Council.

Mr Kearns says the DRL Board of Directors had a 'negative mindset' and had recommended closing the railway to the Dunedin City Council, blaming falling revenues due to the COVID19 pandemic.

Dunedin City Councillors had voted to mothball the railway instead, but Mr Kearns says he is concerned that they have not been given the correct information about how this would work.

'The DRL plan is meaningless as it is so lacking in detail. This raises questions regarding the competence and fitness of DRL's board and senior management.'

Mr Kearns says there are a number of opportunities for rail services that have been ignored.

Options included the reconfiguration of the business away from the cruise ship market to the domestic market.

There was potential for staff and rolling stock to provide commuter services to local destinations such as Mosgiel and Port Chalmers, as well as the establishment of long distance passenger services between Dunedin and other cities on the main south line.

Other possibilities included the sale or transfer of ownership of the Wingatui to Middlemarch line to KiwiRail, with DRL to operate like other heritage rail concerns and pay a fee for track access whilst refocusing their business.

The Union was calling for genuine engagement by DRL management with staff and their union to investigate alternative options for the future of DRL, he says.

Regarding the DCC's request for 'options for DRL's operating and governance structure in the interim', the RMTU is calling for the immediate dismissal of the current board and the appointment of a new board with staff representation.

Mr Kearns says a Facebook page Keep Dunedin Rail Rolling had gained over 1200 supporters this week.

ENDS

For more information contact Rail and Maritime Transport Union Otago Branch Secretary Dave Kearns on 0278893292
OR
Rail and Maritime Transport Union South Island Organizer John Kerr on 027 246 4941
Click here to download this Media Release
Click here to download more Media Releases
---
SUPPORT AUCKLAND TRAINS

Click on the image above or here to sign the petition
---
RMTU / KIWIRAIL Health & Safety -
Click here to go to the RMTU / KIWIRAIL H&S page
Campaigns

Save Our Rail : Northland

Kia ora to everyone in the Rail and Maritime Transport Union

Just to let you know, Save Our Rail Northland's new web-site is: http://www.saveourrailnorthland.org.nz
We'll be adding to the site as things develop, so keep checking in to see where we're at.
Thanks.

Alan Preston
Tel (09)4315389

Also

Save the Gisborne Napier Rail Line

Click here to go to Facebook page

Books & DVD's of Interest

BLACKBALL 2008

A commemoration of the 1908 miners' strike on DVD

Review by Dean Parker - click here

To purchase a copy - click here

Samuel Duncan Parnell - A Legacy

The 8 Hour Day, Labour Day and Time Off

For more information including Foreward by Helen Kelly - click here